Atiku Takes Rescue Message To Sokoto ,Promises To End Insecurity, Open Borders
By Onuminya Ochowechi tIn Sokoto
The presidential candidate of People Democratic party (PDP) Alhaji Atiku Abubakar says if being voted in as a president of Nigeria' he will end Insecurity bedeviling Sokoto state.
Abubakar stated this on Tuesday at Giginya Stadium the venue of PDP presidential campaign .
Addressing the mammoth crowd the former Vice President reiterated that the country is at crossroad which need an experienced person to fix it.
He further disclosed that he will open Nigeria' border with Niger Republic to boost inter country trade.
He noted that among the agenda in his manifestoes which include Youth, women empowerment, boosting Agricultural production, economic development, education and others will restore Nigeria' to its lost glory.
" I would like all of you present here to come out enmasse to vote for all PDP candidates in Sokoto State, I'm not expecting less than 1.5million votes from Sokoto he stated.
Earlier the chairman of the PDP campaign council and Governor of AkwaIbom State Emmanuel Udom urged the Sokoto people to vote out APC for inflicting pain on them.
Udom added that Nigeria' has never had it bad like this saying APC is a curse to the nation.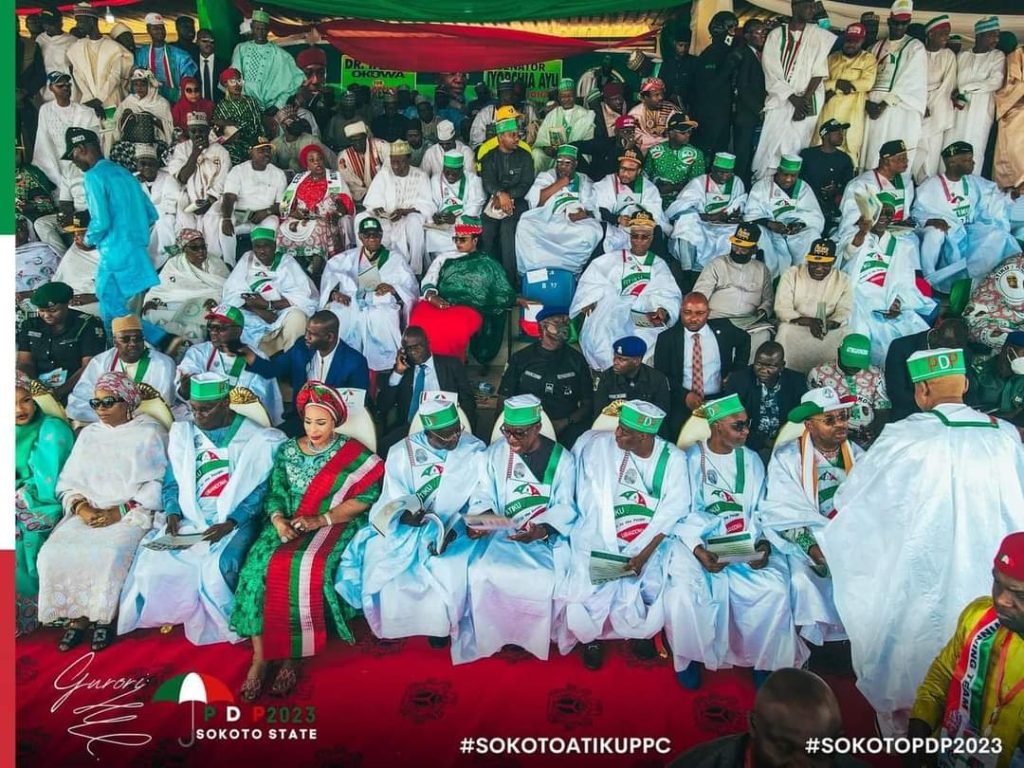 "We have never had it bad as this, look at the price of commodities ranging from food stuff, vehicle, motorcycles , every things have gone up is it the party you will allow to rule us again he stated.
On his part the Governor of Sokoto State Aminu Waziri Tambuwal enjoined the people of the State to vote PDP for prosperity and economic recovery.
Tambuwal explained that Nigeria' situation currently need a man who is experienced, mentally and physically fit to fix it.
Read Also: FG plans vehicles' transit park, dry inland port for Zamfara —…
He maintained that the Nigerians have seen the difference between darkness and light hence the need for them to choose from.
Tambuwal boasted that PDP will win all the electoral contest in the state in the forth coming elections.
The PDP national chairman Sen Iyorchia Ayu who presented umbrella to Ambassador Faruk Malami Yabo who recently defected to PDP implored the people of the state to massively vote for PDP 
The highlight of the event is the commissioning of Dindima flyover constructed by Governor Aminu Waziri Tambuwal and the inspection of nearly completed flyover at Bauchi road, Sokoto State University teaching hospital and Government Girls Science  Secondary School Kasarawa.
Atiku Takes Rescue Message To Sokoto, Promises To End Insecurity, Open Borders
Support Voice Media Trust journalism of integrity and credibility
Good journalism costs a lot of money. Yet only good journalism can ensure the possibility of a good society, an accountable democracy, and a transparent government.
For continued free access to the best investigative journalism in the country, we ask you to consider making a modest support to this noble endeavour.
By contributing to Voice Media Trust, you are helping to sustain a journalism of relevance and ensuring it remains free and available to all.
Donate into:
Dollar Account:
A/C NO: 3003093745
A/C NAME: VOICE MEDIA TRUST LTD
BANK: UNITED BANK FOR AFRICA
Naira Account:
A/C NO: 1023717841
A/C NAME: VOICE  MEDIA TRUST LTD
BANK: UNITED BANK FOR AFRICA