TETFund boss urges govts., stakeholders to promote soft loans for students
Mr Sonny Echono, Executive Secretary, Tertiary Education Trust Fund  (TETFund), has called on governments at all levels, parents, and donor agencies to actively promote mechanisms that will ensure soft loans to students and teaching staff.
Echono said that this would enable them to acquire digital devices for teaching and learning and repay the loan gradually over time.
He made the call at the 26th convocation lecture and 40th anniversary of Lagos State University (LASU), Ojo on Tuesday.
Mr Sonny Echono,Executive Secretary, TETFund
The theme of the convocation lecture was: "The Impact of digilisation on higher education in the digital age."
Echono said that the initiative aimed to enhance device ownership and usage among staff and students
According to him, this will facilitate their access to technology for education and professional purposes.
"The dreams of our founding fathers to build a united and prosperous country can only be realised if we take the necessary steps and make the right investments in the youth of our country.
"Education allows translating that lofty idea into reality.
"Higher education anchored on ubiquitous access, quality curriculum and nimble delivery systems can be a catalyst for sustainable national development.
"For graduates of the future to be relevant and agile in taking advantage of opportunities and providing solutions to societal problems, they must not only be digital natives but also global citizens honed in the skills for critical thinking.
"The graduates must also be problem-solving, communication and technology adoption, adaptability and cross-cultural awareness," he said.
Echono added that as educators, they must embrace the disruption that changed brings.
" The digital age is upon us, and we all must do our part to ensure that we march henceforth with confidence and assurance that the sacrifices of today will deliver a glorious future of shared prosperity.
"TETFund plans to prepare a digitally literate and highly skilled workforce to substantially drive Nigeria's realisation of the SDG4 goals.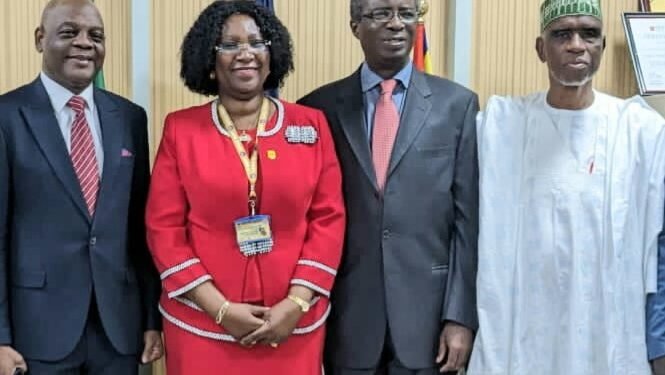 " And will also increase the number of graduates of Nigerian tertiary institutions who had relevant skills, including technical and vocational skills for employment, decent jobs and entrepreneurship," he said.
Echono noted that the challenge facing higher educational institutions in Nigeria today was similar to what afflicted institutions of higher education in some other countries of the globe.
Read Also: Nasarawa Majority Leader drums support for Gov. Sule
"The skills that workers, students and graduates need to be successful in today's economic environment are neither widely taught.
"It is not also captured by either Minimum Academic Standards or Continuous Professional Development programmes for the tertiary education workforce or their students after graduation.
"The emerging skills programmes required to bridge the deficit, to define the knowledge needed for establishing business practices and career paths are often assumed rather than taught, assessed and amplified.
"We need to ensure that the tertiary education sector contributes substantially to the success of the National Plan and National Digital Literacy Framework,"he said.
Echono said that TETFund had currently partnered with key stakeholders in the education industry worldwide to improve and provide access to digital education.
"An example is the partnership we are currently developing with Anthology Cooperation for Capacity Development, using blackboard infrastructure and technology," he said.
Prof. Abubakar Rasheed, Executive Secretary, National Universities Commission (NUC), Chairman of the convocation lecture, said that NUC just concluded reviewing curriculum of all courses in Nigeria universities.
Rasheed said that Nigeria universities would have to comply with the reviewed courses, at least 70 per cent when teaching.
"I urge the lecturers to reinvent and go extra mile on the way we help the students to learn, not only teaching what is on internet because most students have access to internet.
"I congratulate LASU for being one of the best, reliable and sought after university in ICT among other universities in Nigeria.
"From our records, as at yesterday, LASU runs 71 courses and 69 courses has been accredited by NUC," he said.
The Voice Media Trust (VMT NEWS) reports that some infrastructure were inaugurated by the TETFund boss which were donated by his organisation, including Faculty buildings at Department of Arts and Faculty of Communications and Media Studies.
Support Voice Media Trust journalism of integrity and credibility
Good journalism costs a lot of money. Yet only good journalism can ensure the possibility of a good society, an accountable democracy, and a transparent government.
For continued free access to the best investigative journalism in the country, we ask you to consider making a modest support to this noble endeavour.
By contributing to Voice Media Trust, you are helping to sustain a journalism of relevance and ensuring it remains free and available to all.
Donate into:
Dollar Account:
A/C NO: 3003093745
A/C NAME: VOICE MEDIA TRUST LTD
BANK: UNITED BANK FOR AFRICA
Naira Account:
A/C NO: 1023717841
A/C NAME: VOICE  MEDIA TRUST LTD
BANK: UNITED BANK FOR AFRICA